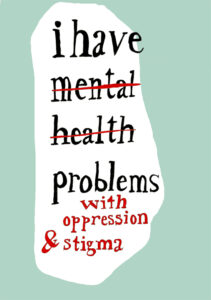 workequalsworthequalsinnocence (2009)
On Thursday we met at Berri-UQAM. Not all people in the group had met each other before today. The intention was to meet and discuss the situation/the articles/mental illness/police violence/oppression and decide what to do do. Karen said, "I don't feel comfortable wearing the shirt."  I said it was okay, no one had to wear the shirts, they are a gift. I turned to speak to someone else and noticed the police had arrived, had driven in the park and were just sitting there. I wondered if they were going to ask us to leave. As I started trying to "facilitate" the group, someone said, "look at Karen". I turned and she had the shirt on and was standing in front of the police car. Blocking their view of the people in the park, showing the text on her shirt. She did not move .  I spoke to people in the park to answer questions and hear their thoughts, they were very amused. We talked about poverty, oppression, resistance, prisons.  20 minutes later the police drove up beside her and asked if she was okay and maybe would she like to "sit on a bench". "No I'm okay here." she replied. I came up beside her to make sure she was okay. The police drove away.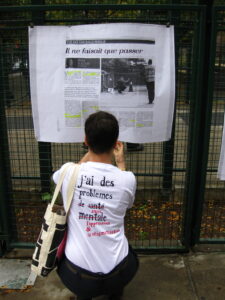 "Il ne faisait que passer"
Translations:  "He did nothing but pass", "He didn't do anything other than pass", "He was just passing", "He didn't do anything but pass"
What does it mean to pass?