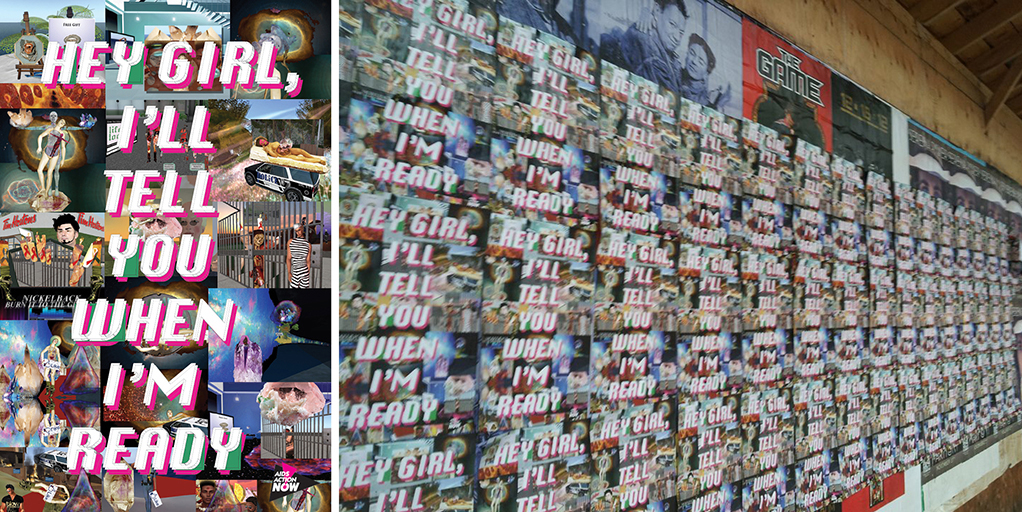 Hey Girl, I'll Tell You When I'm Ready (2012)
With this poster I combined a series of collaged images with the text "HEY GIRL, I'LL TELL YOU WHEN I AM READY". The text plays with two possible readings, "I'll tell you when I am (physically) ready to fuck" and "I'll tell you when I am ready to disclose (HIV status, addictions, abuse history, mental health problems, marital status, beliefs, past loves/losses/experiences, etc.)". The images were collected from the internet and assembled in Photoshop, with sources from Second Life, Medical Venus' from the 18th century, Facebook, crystals and dying stars. Combined, the images are an expression of dissociation and the body in relation to the internet, as well as reflections of contemporary politics and laws that control experiences of embodiment. The calling into question in recent news media of the reproductive rights of women, HIV criminalization, and events such as the Pussy Riot arrests all reflect a shift in state control of the body in recent news. Similar oppressive conditions have been experienced on an ongoing basis for many lifetimes by queers/gays, people of colour, our First Nations communities, the homeless, as well as people struggling with poverty or mental illness (or any combination of the above +).
I am disturbed by how the telling of ourselves, the act of becoming, acutely shifts as disclosure is forced. Who do we become, or not become, within the threat of imprisonment? The criminalization of disclosure creates silence, it is an act of violence itself.
As a person who struggles with mental health problems due to experiences of excessive sexual trauma at a young age, I have lived with the first hand effects of stigma and state control. Some of my close friends are HIV poz, I find it very difficult to associate the very existence of their sexualities with sexual assault. I have seen a correlation between actual sexual assault survivors, addiction and HIV. It is very difficult to maintain a healthy or safe relationship to one's body after surviving abuse or assaults, it is common to put oneself directly into harmful situations as a method of expression of those experiences, for self-medication and survival. The stigma of criminalization just adds to this cycle, preventing prevention.
Many people struggle to tell their 'truths' for many reasons, but they are not criminalized for this. These truths we tell about ourselves are constructions that are affirmed or negated by dominance, social norms, the status quo and laws.
www.postervirus.tumblr.com/